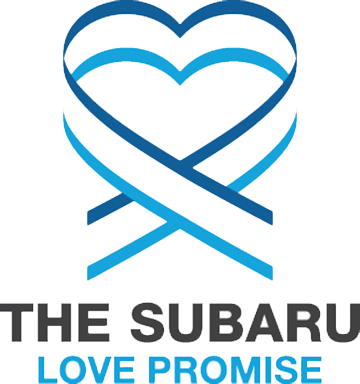 What is the Subaru Love Promise?
Subaru and our retailers believe in making the world a better place and the Subaru Love Promise is our vision of respecting all people. This is our commitment to show love and respect to our customers and to work to make a positive impact in the world.
How is Flemington Subaru dedicated locally to the Love Promise?
Our Love Promise can be seen in various partnerships with local charities and non-profits. We're grateful for the opportunity, not only to be a part of our community, but to serve it as well.
United Way Tools for Schools, Big Brothers and Sisters
Love Promise Stories from Flemington Subaru
Subaru and Flemington Subaru believe in making a positive impact on the communities in which we live and work. We uphold that belief through our Love Promise Community Commitment. Every month, we select inspiring stories from customers and partners from around our area who strive to support our collective commitment and feature them here
Nomad The Subaru Outback That Did it All - Joseph S
Dear Subaru, I wanted to take a moment to tell you of our wonderful seven year, 207,688 mile 2010 Subaru Outback journey. We bought our used 2010 Subaru Outback at Beyer Ford in Morristown, New Jersey on May 29, 2013 with 46,000 miles on it. Our Subaru has been through everything with my family over the past 151,688 miles and has never let us down, left us stranded and has kept us safe doing it. Everything from cancer treatments, kidney stones, emergency room visits, camping trips, vacations, trips to Beach Haven West, NJ, bicycle rides along the Delaware River and the Jersey Shore, kayaking, fishing, college moves and visits, skiing, food delivery in a foot of snow, driving to work, going to the recycling center, going to food drives, going to beach clean ups, picking up furniture and snow blowers, picking your Mom up for Mother's day dinner, going on a date with your wife, picking up construction material for your house lifting project, drive 700 miles and 3 states away to pick up a fishing kayak with your son in one day, going to church and funerals and as one of its last missions getting us through a Covid-19 pandemic. Wow! I mean really, whatever my family has asked of this car, it has delivered and then some without a hesitation and just kept going. To say the least, we really loved our Subaru Outback and were very sad to see it go last week. Our Subaru needed way to many expensive repairs like a second timing belt, a new exhaust, tire pressure monitors and a major power steering repair. Last week with the help of a wonderful Subaru Ambassador named Darlene Miller at Garavel Subaru in Norwalk Connecticut we ended our journey with our 2010 Subaru Outback (AKA Nomad as we called her) and started a new Subaru Outback journey. We decided that if our last Subaru was so great that we would just get another Subaru Outback and continue the Subaru Love. Darlene Miller was truly one of the nicest people and Subaru representatives we have ever dealt with. She was a great communicator with emails, phone calls and texts. This was very important since we were traveling 80 miles from Cranford, NJ to Norwalk, CT to buy our used 2017 Subaru Outback from Garavel Subaru. Darlene Miller took the time to answer all our questions in person about the Subaru Outback and observed all Covid-19 health precautions doing so. This was a very big concern of ours and everyone at Garavel Subaru took this very seriously. This really put us at ease. Thank you Garavel Subaru! Darlene Miller walked us through all the safety features of the 2017 Subaru Outback. We are now happier than ever with all the added safety features. We now know that we will always be safe in our 2017 Subaru Outback no matter where it takes us. It's so easy to give praise to someone who truly embraces what they do with Subaru Love. Darlene Miller is a true ambassador of the Subaru product and totally exceeded our used 2017 Subaru Outback car buying experience. I wish Darlene Miller and the rest of her Garavel Subaru Team a happy, healthy and prosperous 2021. As for the Sokolowski Family from Cranford, New Jersey we can't wait to begin our new 2017 Subaru Outback Journey. Keep up the great work Subaru! Regards, Joseph Sokolowski130 Mohawk Drive Cranford, NJ 07016
---
Subaru Loves to Help Keep Cyclists Safe - Caryl G
With the help of the experts at V5 Cycling, Flemington Subaru promoted the Loves to Help by sponsoring a special Cycling Workshop. The event, open to the general public, offered specialized training on how to repair a damaged tire on their own bikes.
---
Flemington Subaru supports Hunterdon Healthcare - Karin C
Flemington Subaru, proud member of the Flemington Car and Truck Country Family of Dealerships…Family, Not Corporate…announced the results of its 2015 Subaru "Share the Love" Campaign in support of the Hunterdon Healthcare Foundation. Robert Wise, CEO & President of the Hunterdon Healthcare System and Christina O'Malley, Community Affairs Director for HHF was presented with a check for $13,935.00 from Steve Kalafer, Chairman of Flemington Car and Truck Counry and Tim Morley, General Manager of Flemington Subaru on April 19th on behalf of the Subaru "Share The Love" Program. The contribution allows Hunterdon Healthcare Foundation, the fundraising organization for Hunterdon Medical Center, to continue to support the Medical Center's mission of providing high quality healthcare and awareness for the community."At the Flemington Car & Truck Country, we are proud to support the Hunterdon Healthcare Foundation," said Steve Kalafer, Chairman of Flemington Car & Truck Country, "…Family, Not Corporate. Nothing brings a bigger smile to my face than being able to support and make a difference in our local community." "Kudos to the Subaru Share the Love Program for giving us, as a local business, the opportunity to support the programs that improve our quality of life," said Tim Morley, General Manager at Flemington Subaru. As a member of the Flemington Car & Truck Country, "we're always looking for ways for which we can give back to our community."
---
Flemington Subaru loves Butterflies - Karin C
90% of Monarch Butterflies have disappeared because their habitat is disappearing. Join Flemington Subaru in helping restore the majestic Monarch to our local ecosystem. Every person who purchases a vehicle this month will receive a free Butterfly Heroes kit complete with Milkweed seeds to plant in their gardens. Additionally, all those who pledge at nwf.org/subaru on or before June 1, 2016 are automatically entered to win a trip for four to Walt Disney World in Orlando, Florida.
---
Flemington Subaru Participates in United Way of Hunterdon Diaper Drive - Debbie C
United Way of Hunterdon County Diaper Drive June 1, 2014 According to United Way of Hunterdon County, in a baby's first year he/she will have used an average of 2,788 diapers, at a cost of approximately $1,200.00. 1 in every 3 American mothers struggles to find the funds to purchase diapers for their children, often cutting back on basic needs such as food, utilities, and child care to offset the expense. On the other end of the spectrum, a growing senior population in the County struggles with "adult incontinence". Nearly 3.7% live in poverty. Because they can't afford these products, many incontinent but otherwise healthy adults stop leaving the house, becoming virtual shut-ins for fear of embarrassing accidents. Associates from all departments brought packs, cases and bags full of diapers to the company's annual picnic. Along with its sister dealerships, Flemington Subaru collected 3,816 diapers!
---
Flemington Subaru Partners With United Way of Hunterdon For "Tools 4 School" - Amy A
United Way -"Tools 4 School" Working in tandem with the United Way of Hunterdon and other area businesses, Flemington Subaru helped collect school supplies for 1,300 Hunterdon County students who otherwise would not have been able to purchase necessary basic school supplies needed to achieve greater educational success. Donations, including backpacks, notebooks, pens, pencils, erasers and folders, were gathered by volunteers, saving families over $45,000 in school supply expenses.
---